Alexa, play "Balik Kampung"! As this familiar tune fills the airwaves, that's when you know it's that time of the year again. There's nothing quite like reuniting with your loved ones, putting up Raya decors, and indulging in traditional festive delicacies and Raya cookies.
However, travelling during cuti Raya season can be challenging with the heavy traffic, overcrowded commute, and high travel costs. Welp, that's where TREVO comes in and THIS is a sign to setel your Raya transport early.
Here are some TREVO tips to make your Raya road trip smoother than a ketupat. 😎
1. Use the BEST available promo
There are tons of promos available on TREVO. It's like our very own Raya gift box to you! And although having promos is always a good thing, you'll still need to choose the one that works best for your trip. Plan ahead and maximise your savings on transportation with TREVO for an affordable and headache-free holiday!
See below on how to claim limited-time promos.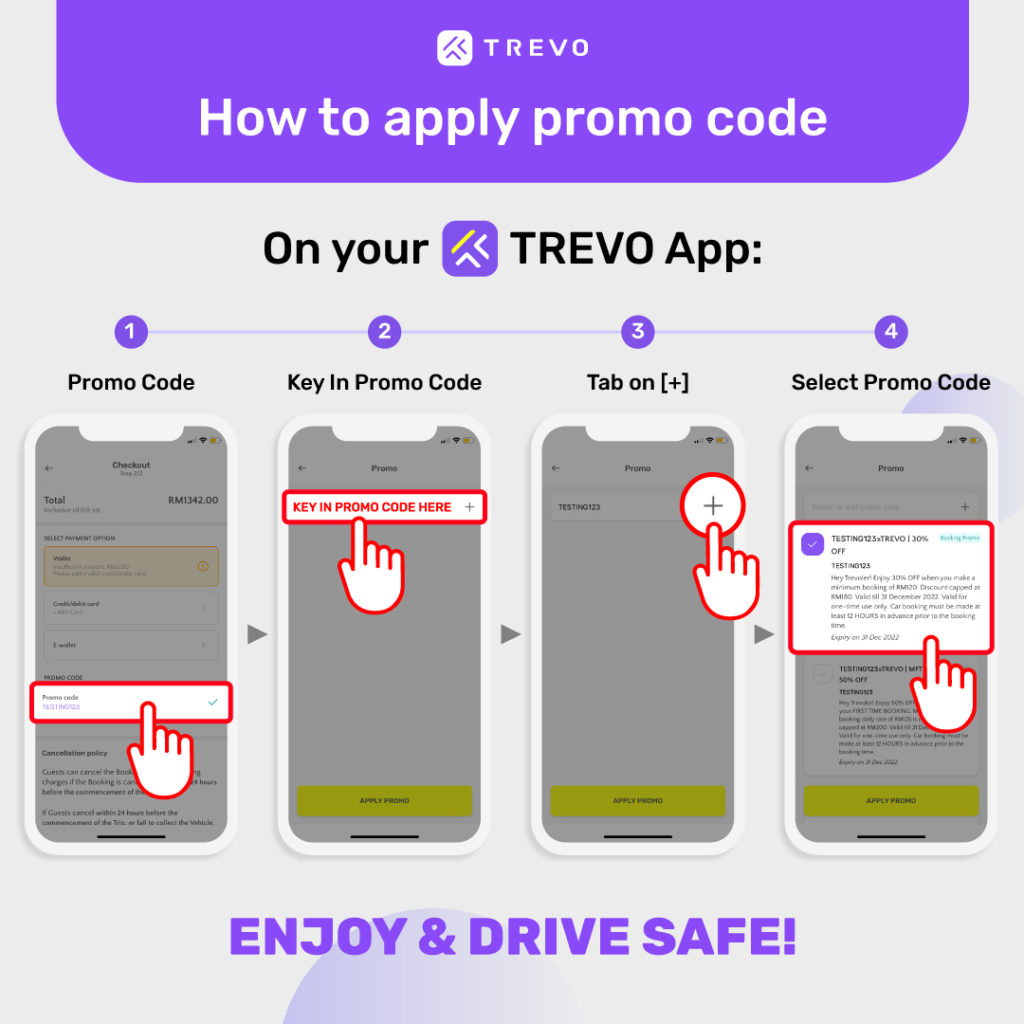 2. Book a bigger car
Enjoy a stress-free journey with ample space for both passengers and luggage. With a wide range of big cars from our TREVO hosts, you will easily find the perfect ride to balik kampung in style. Bigger cars also mean you can comfortably carpool with friends to save yourselves from crammed transportation. Plus…who wouldn't love a little legroom? 
3. Avoid extension
Raya kan sebulan? Make sure to book your TREVO car to cater for full Raya family time. This way, you wouldn't have to susah-susah extend your TREVO car booking. Not to mention, you'll save so much more when you book long-term.
Here's how to do long-term booking on TREVO.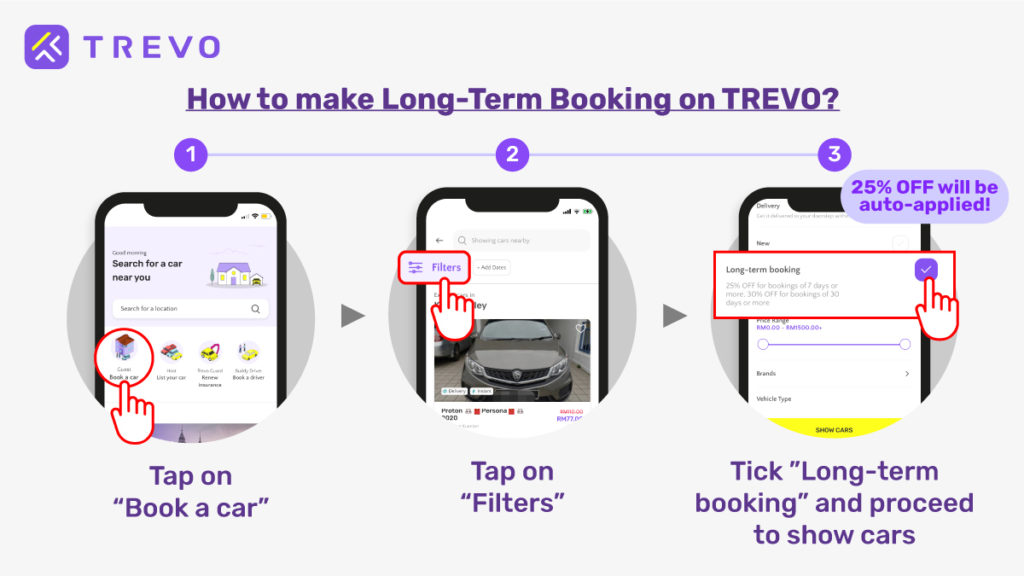 4. Opt for Delivery & Pick Up
Your utmost convenience matters. Get your TREVO Raya ride delivered and picked up from you from as low as RM5. No more worries on the last mile journey to get your car so that you can focus on celebrating and enjoying your cuti Raya.
5. Stay protected
Don't compromise you and your loved one's safety! Get covered with TREVO's SCDW best protection plan. To ensure you don't miss it, you can choose your desired SCDW plans in your TREVO car booking process. Driving back home with extra protection will reward you with peace of mind. 
6. Use road trip planning tools
Travel apps can be a game-changer during the Hari Raya season. Travel apps like Waze, Google Maps or PLUS App can provide real-time updates on traffic conditions, suggesting alternative routes to help you avoid gridlock. Besides that, they're also helpful in finding the closest petrol station, rest area, or even halal eateries for your pit stops.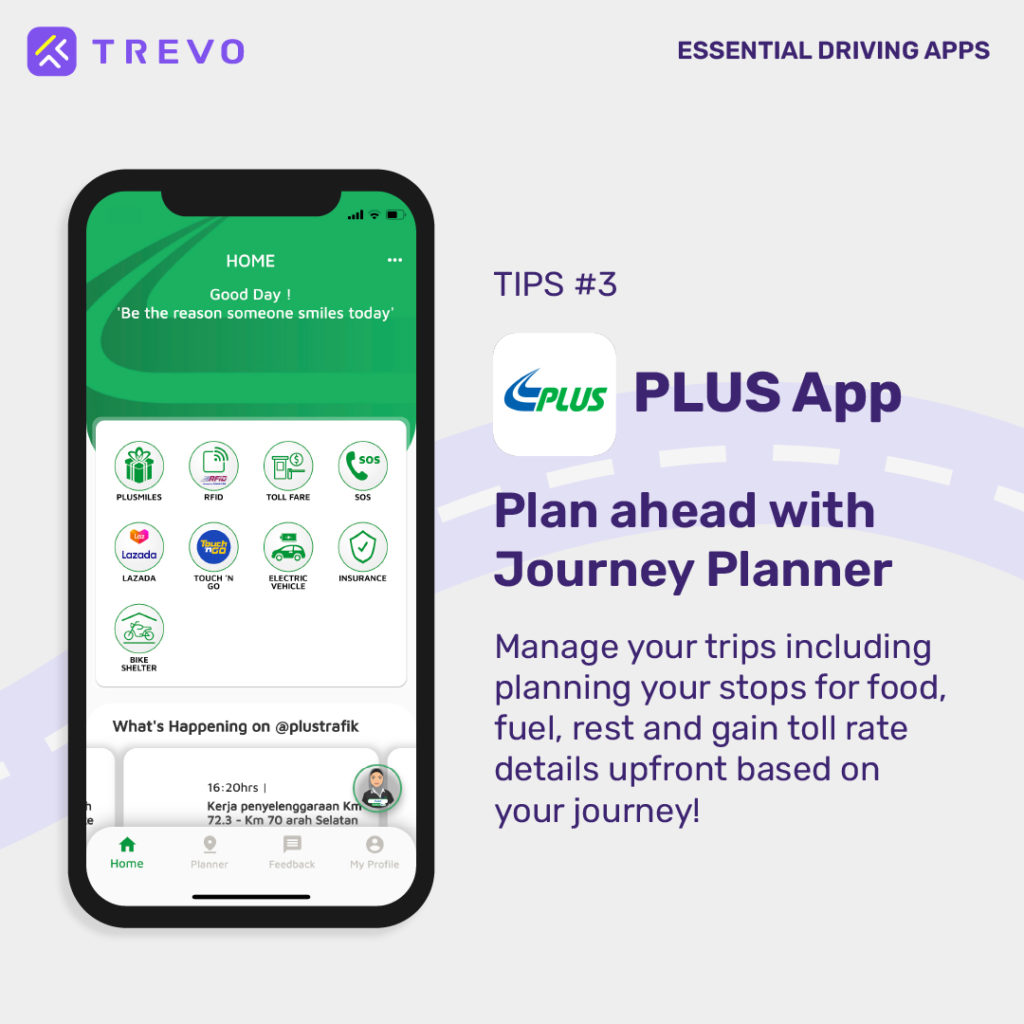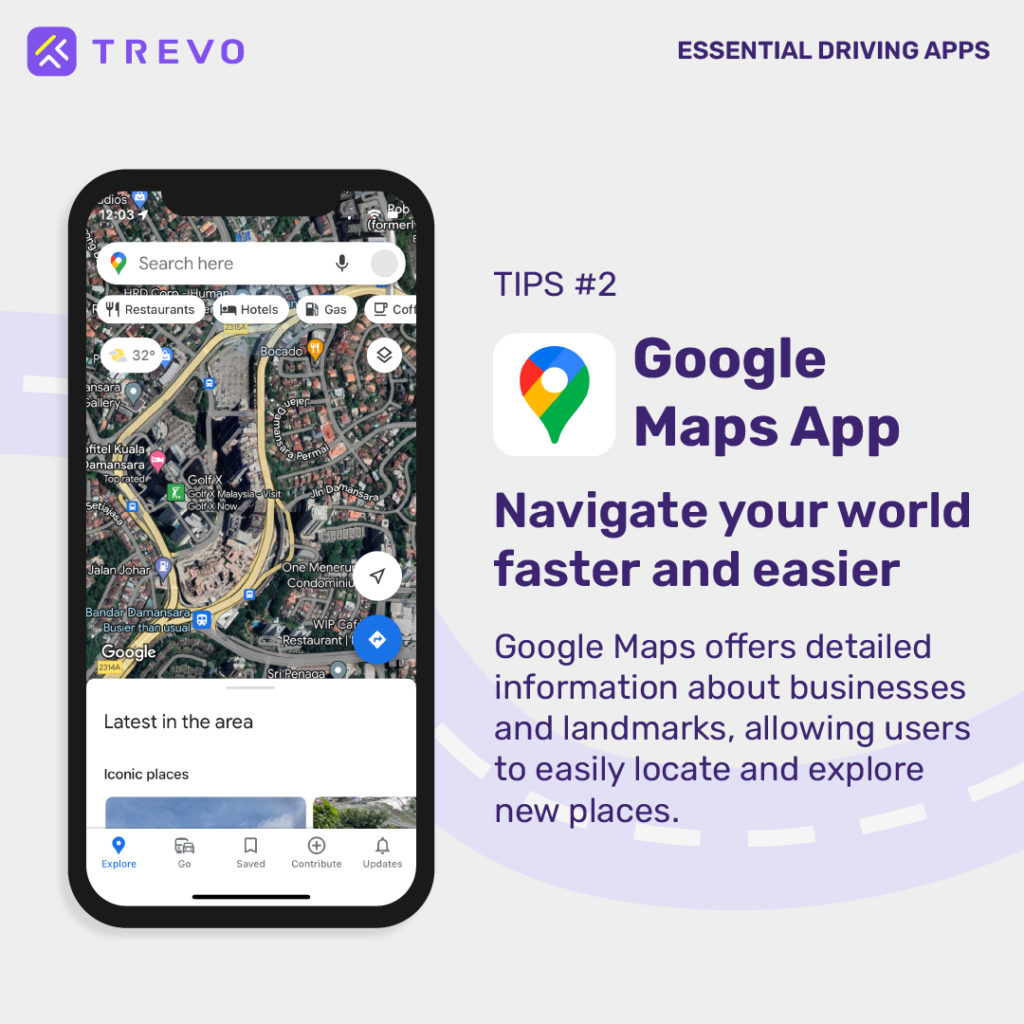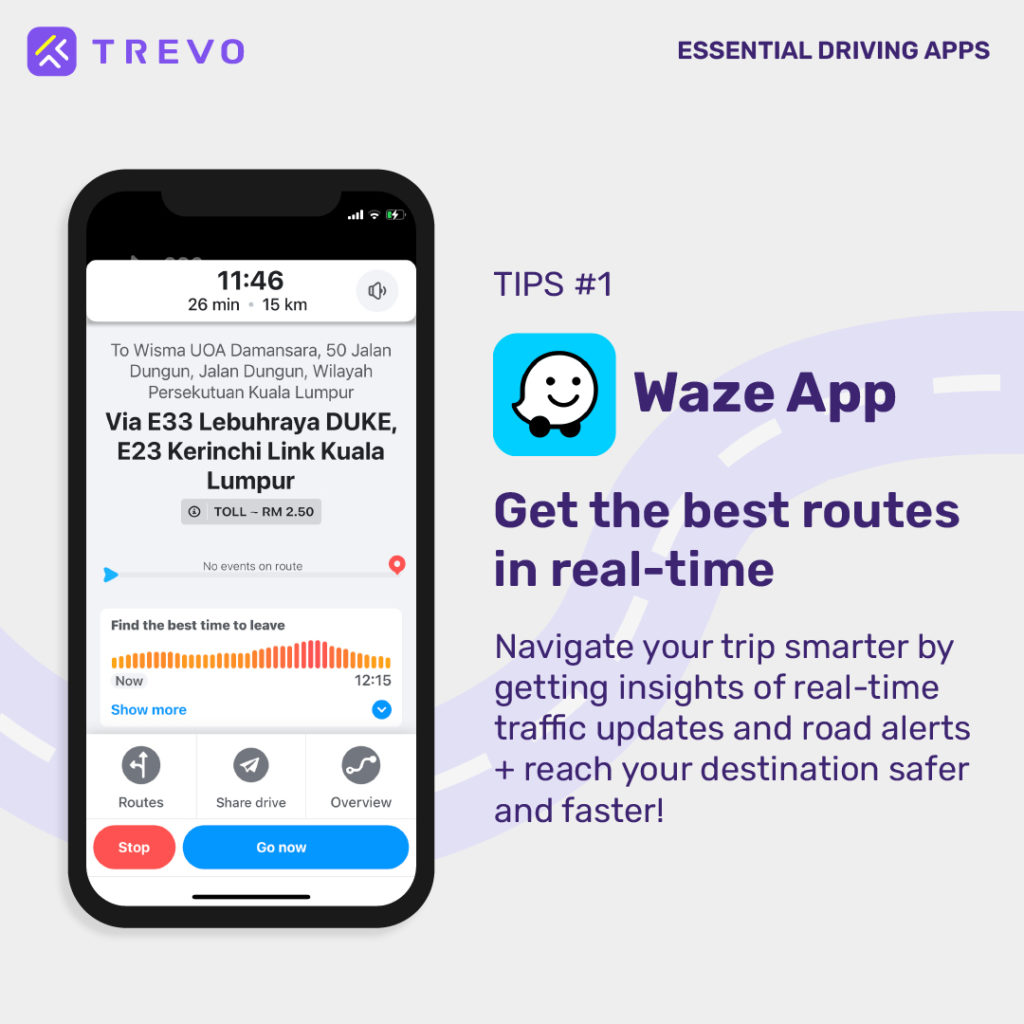 7. You don't have to be alone
Unexpected events are bound to happen on any travels. That's why we offer 24/7 Live Chat to ensure you feel safe and supported at all times. Whether you have a question about your booking or need any assistance along the way, our support team is a chat away. 
8. Take a break
Avoid dozing off behind the wheels! It is very important to stay alert during your journey. Get enough sleep the night before you begin your drive, and stop at a designated rest area to catch a break. Maintaining a good posture, especially for long-distance driving, is also advisable so that you won't slouch and be at risk of falling asleep.
9. Obey road rules
Put your full attention on the drive. Get rid of any distractions that can cause accidents to happen. The road isn't a racing pit, so follow the allowed speed limit, don't overtake dangerously, and be sure you and the passengers are buckled up.
10. MOST IMPORTANT: Leave no one behind!
Raya is all about getting together for a jolly good time. Balik kampung doesn't have to be a lonely one. The shared experience of travelling and celebrating together will create lasting memories and strengthen the bond between each other. Also, sing-alongs to "Seloka Hari Raya" are better together!
Now you're all prepped up for the annual festive road trip, it's time to book your comfy and reliable kereta Raya from our TREVO hosts.

P/S If you enjoyed driving or renting with TREVO, get yo' Duit Raya by referring your friends and family. Click here to learn more!