Langkawi Island is a beautiful tropical paradise in the Andaman Sea off the northwest coast of Malaysia. The Jewel of Kedah is a popular vacation spot for families. This island offers many activities and attractions to entertain children and adults!
This school holiday, spend your #FamTime exploring the island's lush rainforest, indulge in various water sports and activities, or just chill at its pristine beaches. Discover the Top 10 family-friendly things to do in Langkawi and experience the best of this heaven on Earth.
1. Island Hopping
Langkawi is an archipelago of 99 islands. Your trip is incomplete without island hopping! Take a boat tour to explore smaller islands and marvel at their unique landscapes and wildlife. These boat charters usually include popular spots like Pulau Dayang Bunting and Pulau Beras Basah. Some tours also offer snorkelling and kayaking and enjoy a leisurely ride on a pedalo in Dayang Bunting Lake. Visitors also have the chance for some up close and personal moments with the diverse marine life that calls this region home.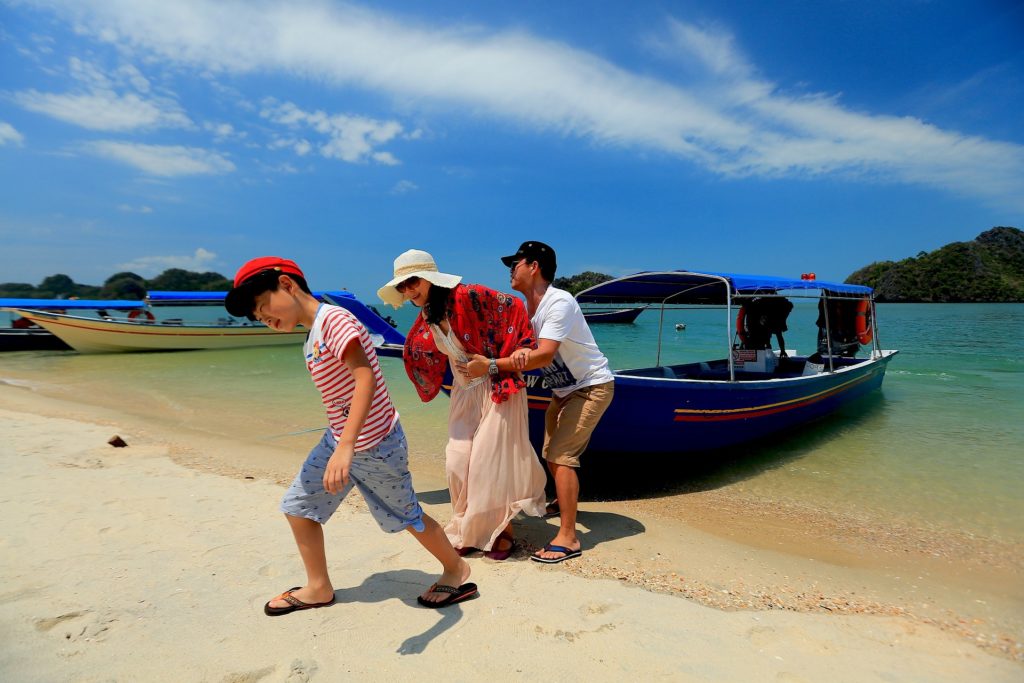 2. Take a Cable Car Ride
Educational AND exciting: experience the thrill of being suspended high above the rainforest canopy while learning about the island's rich biodiversity. This 20-minute Langkawi Skycab ride to the top of Gunung Mat Chinchang offers a breathtaking panoramic view of the island and its natural wonders. Children and parents alike will be mesmerised by the incredible scenery. So, smile for that perfect Kodak moment as you soar to the summit of Langkawi!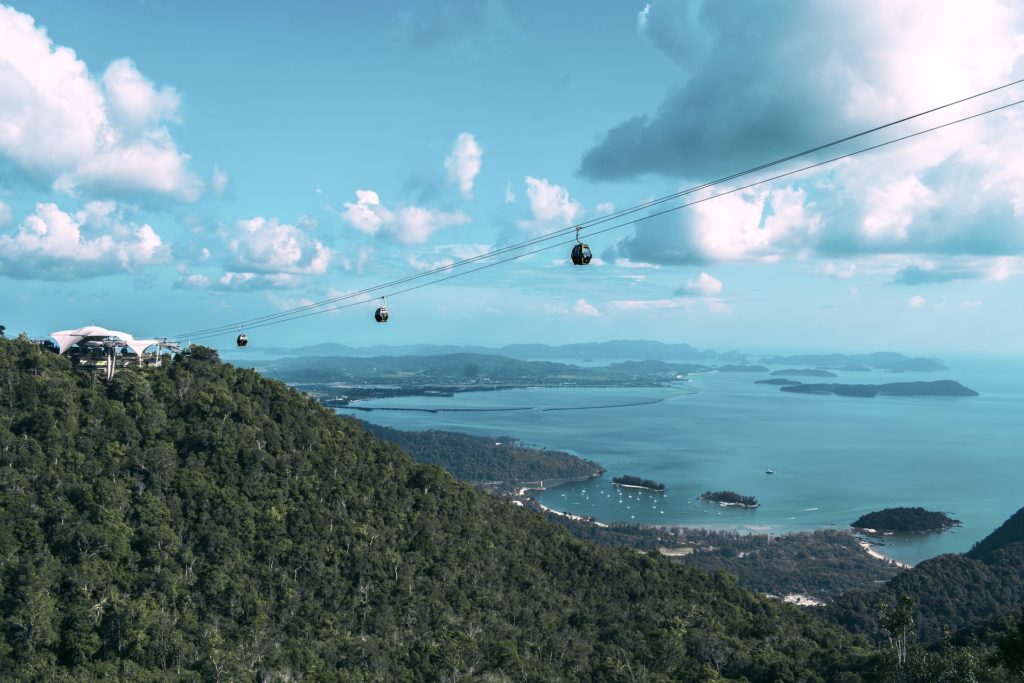 3. Cross the Langkawi SkyBridge
The thrill continues beyond cable car rides. Your dose of adrenaline continues on the world's longest suspension bridge! The Langkawi Skybridge spans atop the 550-million-years old Gunung Mat Chincang. It measures at a length of 125 metres and 660 metres above sea level. Engineered with the intention to maximise the view, this cable-stayed bridge is also safe for visitors, especially those with children.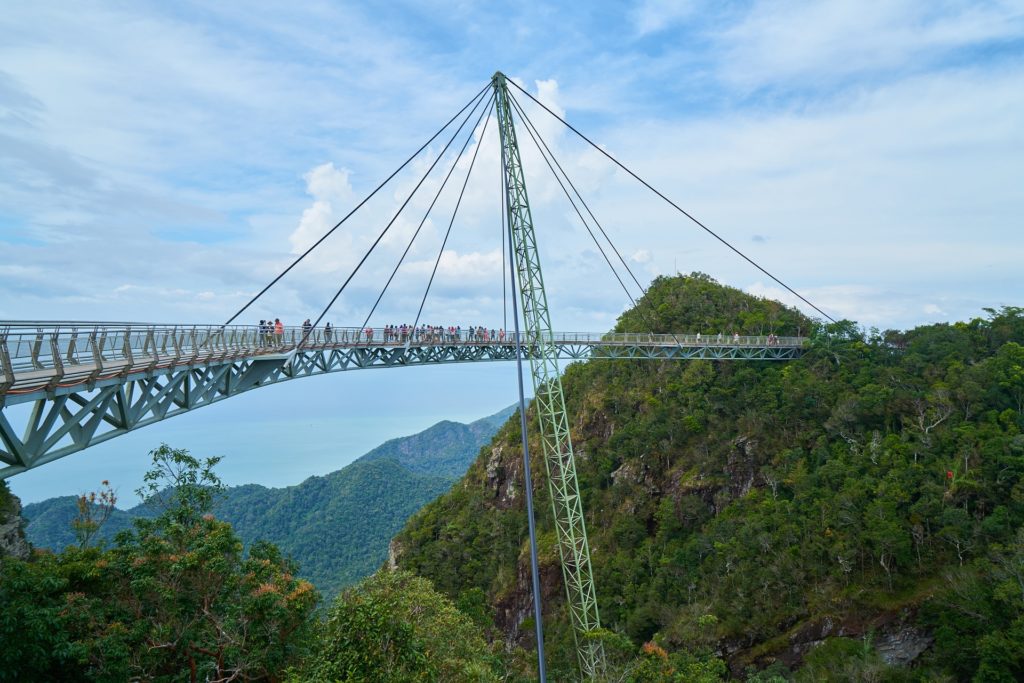 Two fun facts about the Langkawi SkyBridge:
1. The entire bridge, pre-built in segments, was lifted to the top of the mountain using the Russian Kamov helicopters.
2. A scene of Don: The Chase Begins Again (2006) was filmed here.
4. Admire the Telaga Tujuh Waterfalls
The myth holds that fairies bathed and played in the Telaga Tujuh (Seven Wells) Waterfalls pool in the olden days. Nowadays, it is an international and local tourist attraction. This seven-tiered waterfall is a must-visit! Hike through the rainforest, take a dip in the crystal clear waters, and enjoy a relaxing picnic amidst the tranquil surroundings with your family. If you come by car, the best part is that the falls are only a short 5 minutes drive from the cable car entrance! Need a reliable ride to tick off your Langkawi bucket list? TREVO offers a range of rides for your family getaway needs!
5. Play Time at Splash Out Langkawi
Water theme parks are always a fantastic destination for families, especially those with children looking for a fun and exciting day out. The park offers 12 water attractions, including water slides, wave pools, lazy rivers, and more. Safety is everybody's top priority, and fret not, as the facilities are well-maintained so you can relax and enjoy your visit! Hungry after a splashing good time? Splash Out Langkawi caters for the best dining experience too! Enter Seafarers Haven – a food court that serves mixed cuisines of the Asian Continents.
6. Dine by the Paddy Field
If you're looking for an authentic dining experience on Langkawi Island, visit Nasi Dagang Pak Malau. This restaurant offers delicious local cuisine in a picturesque rural setting with a stunning view of the paddy fields. The restaurant is known for its signature dish, Nasi Dagang, which is a traditional Malaysian rice dish made with coconut milk and served with flavorful curry and fish. The ingredients are fresh and high quality, making the food even more delightful. The rustic ambience adds to the restaurant's charm. It creates a serene and peaceful atmosphere, giving an ideal place to relax and enjoy a meal with family and friends.
7. Visit Langkawi Wildlife Park
Can't miss Asia's first fully-sheltered wildlife park, especially if you're an animal lover. The park features over 150 species of animals, including various bird species, mammals, reptiles, and fish. Visitors can enjoy the up-close encounter with the animals and even feed them in designated areas. The park also offers informative and educational shows where visitors can learn about the animals' behaviour, habitat, and conservation. The park's staff is knowledgeable and friendly, and they ensure that the animals are well-cared for and their welfare is a top priority.
8. Get Lost in Langkawi Night Markets
Indulge in Langkawi's vibrant culture and gastronomy in their night markets! With several night markets spread across the island, each market offers a unique experience and something new to explore. The Pekan Kuah Night Market is the largest and most popular, with a wide variety of food, drinks, clothing, and souvenirs. The Padang Matsirat Night Market is another option, offering a range of local delicacies and live music performances. The Ayer Hangat Night Market is great for trying local seafood and witnessing cultural shows. 
Other markets like Ulu Melaka and Kedawang night markets offer a more laid-back and casual atmosphere with local specialities and bargain prices. With these many options, you can enjoy a different night market experience every night. Thinking of night market hopping? Get there with TREVO!
9. Visit Ayer Hangat Village
Immerse yourself in rich Malay culture and heritage at Ayer Hangat Village, a hidden gem in Langkawi. The village is home to one of only three salt hot springs in the world, a unique and fascinating natural wonder you can't miss. You and your loved ones can relax in the mineral-rich hot water, which is said to have healing properties. The village also has a long and interesting legend associated with the hot springs, adding to the mystique and charm of the place. Besides, visitors can witness traditional Malay houses and handicrafts, indulge in local delicacies and shop for souvenirs. The friendly locals are always ready to share stories and make visitors feel at home.
10. Unwind at Pantai Chenang
Pantai Chenang has to be on your itinerary. After a long day adventuring and gallivanting around the island, it's time to take your family to just chill and admire the sunset at this beautiful beach. This is a moment to treasure, to reflect on the memories you've made on this island and the love and companionship you share with your precious ones.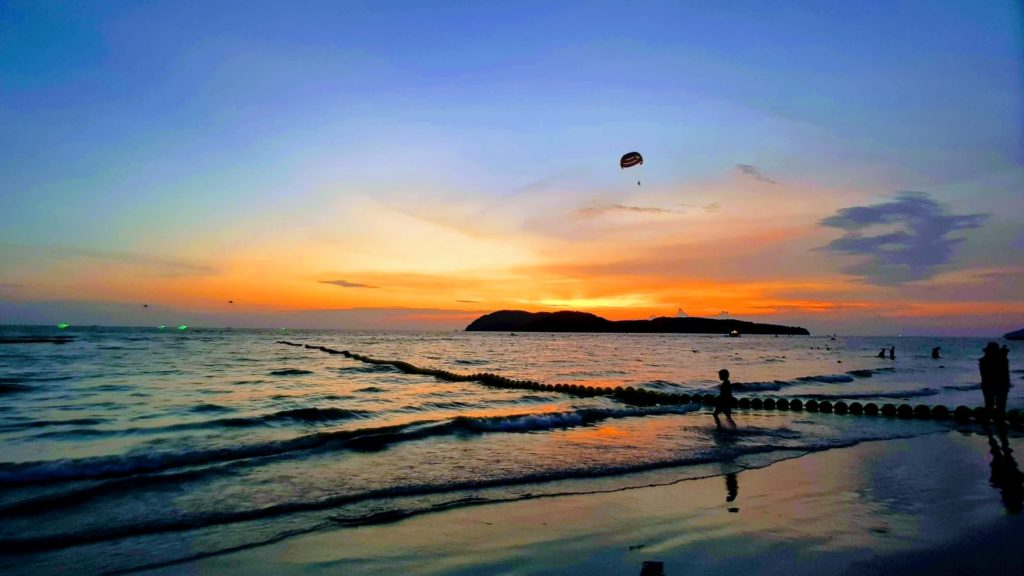 Inspired for a tropical odyssey around the Jewel of Kedah now? Tour the island at your own pace and create a memorable #FamTime adventure with TREVO. Book early for the best experience!