We tend to underestimate the charms of Malaysia's east coast cities. Kuantan offers a tranquil escape for people looking to get away from the hustle and bustle of the city with attractions, including amazing landscapes, lovely beaches, and breathtaking nature trails.
Introduction to Kuantan
Kuantan is the capital of Pahang, the largest state on Malaysia's peninsula. It is approximately 277 kilometres from Kuala Lumpur or a four-hour journey. Kuantan has a population of about 400,000 people, making it the largest city on Malaysia's East Coast.
The city is divided into two parts: modern and historic. Many stunning vistas can be found, particularly in the older area. There are also some antique-looking shopping malls like Kompleks Teruntum and Kuantan Parade. Kuantan is rapidly evolving into a sophisticated metropolis, with numerous active developments.
There are many interesting things to do in Kuantan. For instance, you can visit the State Mosque, the Kuantan River Esplanade and River Cruise, or one of the recreational parks!
Beautiful beaches and waterfalls are also among Kuantan's most famous points of interest, but the town and its surroundings also offer a variety of other delightful sights that are well worth including on your itinerary for your Kuantan trip.
10 Best Things To Do In Kuantan
1. Visit Teluk Cempedak Beach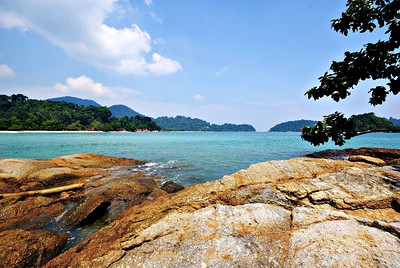 Your Kuantan trip will not be complete if you don't drop a visit at Teluk Cempedak. This peaceful palm-lined beach is perfect for a swim with your family. Enjoy some time at this Kuantan attraction which is located just 5km from town as you take in the fresh breeze and relaxing atmosphere. With the powdery white sand, your soul and body will feel rejuvenated! Engage yourself in some activities offered such as snorkelling and surfing!
If you want things to do in Kuantan at night, Teluk Cempedak has a lot to offer! You can enjoy the night breeze of the beach while sipping on Starbucks Caramel Frappuccino.
Location: Pantai Teluk Cempedak, 25050, Pahang (Google Maps)
2. Watch the Sunset at Panorama Hill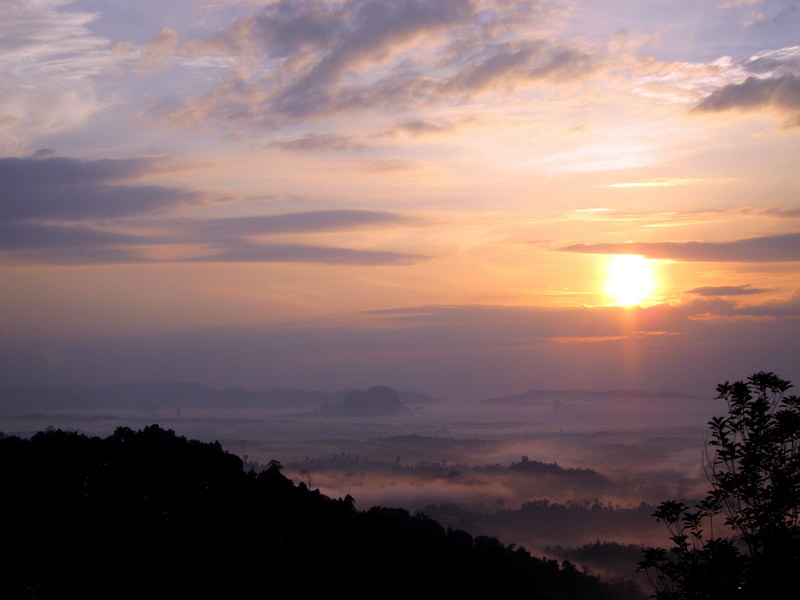 Bukit Panorama, also known as Panorama Hill, is a stunning attraction in Kuantan that you can't afford to miss while you're here, and it's unquestionably the city's best-kept secret. You can reach the peak after a 45-minute hike and take in one of Kuantan's most spectacular views.
If you're an early bird, you should begin your journey before dawn since the sight of the sun peeping through the sea of clouds is absolutely breathtaking. Otherwise, you can still choose to go for a hike and catch the sunset.
Location: Kampung Kuala Kenau, 26200 Sungai Lembing, Pahang (Google Maps)
3. Lunch at Akob Patin House
If you don't know what to eat in Kuantan, pay a visit to Akob Patin House, which specialises in patin tempoyak and "kampung" meals. A thick gravy is used to cook patin fish (catfish), which imparts an earthy flavour. You may also try their mouthwatering speciality Udang Galah Lemak Tempoyak (tiger freshwater prawns) if you're not a fan of fish.
Location: a2, Lorong Haji Abdul Rahman 1, 25000 Kuantan, Pahang (Google Maps)
Opening Hours: Monday to Saturday, 8:30am – 6:00pm
Closed: Sunday
4. Cruising at the Kuantan River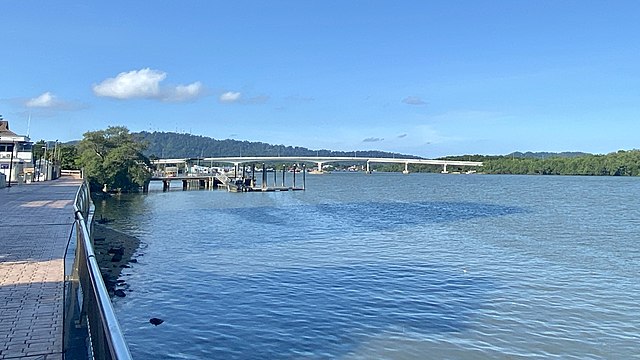 The Kuantan River Cruise is one of the most interesting locations you shouldn't miss out! The river cruise is one of the best family activities in Kuantan since the river cruises will take you through a 500-year-old mangrove forest reserve swamp where you can see crocodiles, otters, lizards, and monkeys.
Additionally, there are unique firefly cruises, which are highly popular with tourists. The river cruise tour make several stops at a fishing community and a specially constructed wooden walkway where guests can stroll through a mangrove forest.
Location: JETI SHAHBANDAR, Jalan Tanah Putih, 25100 Kuantan, Pahang (Google Maps)
5. Take Photos at Kuantan Art Street
Just two minutes walk from Masjid Sultan Ahmad and runs parallel to it to the south, Jalan Taman has been improved and is now more well known as Kuantan Art Street. You can find more than 30 great murals which are all painted by 13 Pahang artists between the ages of 26 and 52
One of the most recognisable is a picture of the renowned Malaysian singer-songwriter Sudirman Arshad, who was born in Temerloh, Pahang. Other significant murals honour the native people (orang asli) of Taman Negara Pahang, the Pahang Malayan tiger and many more.
Location: Lorong Seni, Jalan Taman, 25000 Kuantan, Pahang (Google Maps)
6. Enjoy Mango Cheesecake at Kula Cakes
Kula Cakes has always been a favourite among sweet tooths for desserts because they have the best mango cheesecake in town. This Instagram-worthy eatery provides outside seating and desserts, including cakes and brownies.
Mango Cheesecake with a splash of mango sauce, a thick layer of cheese, and crunchy biscuits is a match made in heaven!
Location: 96, Jalan Besar, 25000 Kuantan, Pahang (Google Maps)
Opening Hours: Tuesday to Sunday, 10:00am – 6:00pm
Closed: Monday
7. Get a Bird's-Eye View of The City at Kuantan Tower 188
The 188-metre-tall Kuantan Tower 188, which was completed in 2022, is the second-highest viewing platform in the nation behind the Kuala Lumpur Tower, which rises to a height of 421 metres.
Kuantan Tower 188 currently features a 104-metre-high observation deck that offers 360-degree views of the city and the estuary. They offer some of the most adventurous things to do in Kuantan city such as the Skywalk! If you're someone who loves adventure, make sure to give this tower a visit.
Location: Jalan Besar, 25000 Kuantan, Pahang (Google Maps)
8. Admire the Masjid Sultan Ahmad Shah
Masjid Sultan Ahmad Shah is a must-see while in Kuantan. This mosque has lovely blue accents. If you're a non-muslim, you can admire the architecture.
It is extremely enormous, with a magnificent tiled interior, stained glass, and a lofty roof. The mosque is largely utilised for worship by nearby university students. If you happen to come in the evening, you can find a small market conducted nearby!
Location: Jalan Mahkota, Kompleks Pentadbiran Kerajaan Negeri Pahang, 25000 Kuantan, Pahang (Google Maps)
9. Find a Peace of Mind at Sungai Pandan Waterfall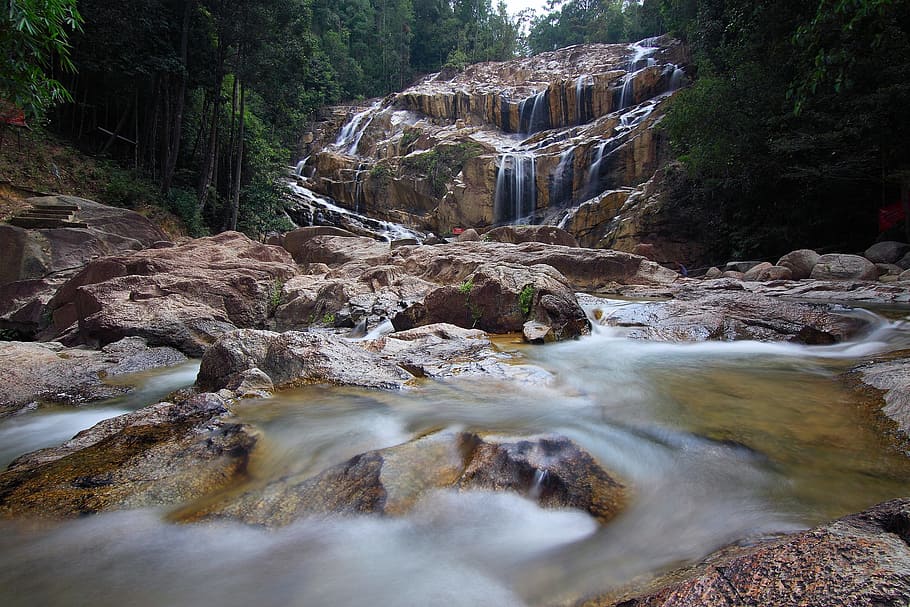 One of the most well-liked activities Kuantan has to offer would be visiting Sungai Pandan Waterfall. The distance between the waterfall and Kampung Panching village is only about 13 kilometres. You may walk through the rainforest, take a dip in the cool, refreshing water at one of the numerous cascading falls nearby, and watch it all from above on the suspension bridge.
There are some excellent facilities nearby, like gazebos and picnic spots. Furthermore, the water contains fish that gets rid of dead skin so you won't need to pay for a spa!
Location: Air Terjun Sungai Pandan, 26250 Kuantan, Pahang (Google Maps)
10. Dinner at Ana Ikan Bakar Petai
A necessity in Kuantan is indulging in your favourite seafood, as the city is known for its fishing town. You may satisfy your craving for seafood at Ana's Ikan Bakar Petai as they provide a variety of fresh fish, prawns, squid and prawn options.
The delectable dishes Ikan Goreng Kunyit, Bakar Petai, and Masak Cili are well worth trying. All of the fish are wrapped in banana leaves and grilled for a smoky flavour after being seasoned with herbs and spices.
Location: Jalan Tanjung Lumpur, Perkampungan Tanjung Lumpur, 26060 Kuantan, Pahang (Google Maps)
Opening Hours: Monday, 3:00pm – 8:30pm
Tuesday to Thursday, 11:30am – 8:30am
Friday, 2:00pm – 10:00pm
Saturday & Sunday, 11:30am – 9:30pm
Getting Around in Kuantan
Without question, the best method to move around Kuantan is by car. It's the most convenient because you can go wherever you want without worrying about how many places you want to see. You can also make as many stops as you desire! Everything in Kuantan is close by, so you won't have to worry about missing out on anything on your itinerary.
If you don't own a car, you can rent one from TREVO! There are numerous alternatives available, whether you want a small or large car!
Ride with TREVO
TREVO has the most diverse car selection, with models ranging from low-cost to high-performance cars to meet any requirement. TREVO has the ideal vehicle for every occasion, from beach cruising to a fun trip around Kuantan!

Rent a car with TREVO and explore the lovely city of Kuantan!