Image credit: IPC
The year 2022 brings new meaning to the word "Merdeka". We are free to explore Malaysia's many diverse attractions once more. Whether it's unique cultural celebrations, sunny beaches, cool highlands, lush nature parks, or different eateries serving mouth-watering cuisines, there's something for everyone!
That's how blessed we are to be living in Malaysia. As a melting pot of cultures, new experiences await, always just a drive away.
So as the country turns 65, let's celebrate a meaningful Hari Merdeka and Malaysia Day by exploring our heritage. Come explore these places with great historical significance!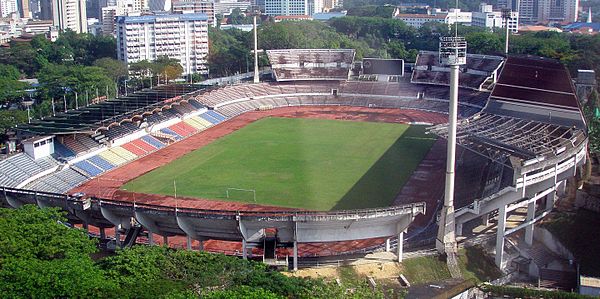 Who can forget the iconic black-and-white image of then Prime Minister Tunku Abdul Rahman proclaiming "Merdeka"? This stadium was the venue for Malaysia's declaration of independence on 31 August 1957. Since then, the Stadium Merdeka has hosted major sporting events like the 1977 Southeast Asian Games, Pesta Bola Merdeka football tournaments, and even a boxing match between Muhammad Ali and Joe Bugner in 1975.
Renowned international musicians have also performed here, including Michael Jackson in 1996, Linkin Park in 2003, Mariah Carey in 2004 and the Jonas Brothers in 2012.
This historical landmark, which is currently being restored, has been recognised by the Unesco Asia-Pacific Heritage Awards. For the moment, you can get a taste of patriotic nostalgia by just being in the vicinity of this enclave.
Soon, visitors will be able to enjoy a bird's eye view of Stadium Merdeka from 118 floors above. The world's second tallest building, Merdeka 118 tower is due to be completed by the end of 2022. This new structure overlooks Stadium Merdeka and another iconic landmark, Stadium Negara.
Address: Jalan Stadium, 50150 Kuala Lumpur.
Contact: +603 2050 5724, psm@ksn.com.my (Perbadanan Stadium Merdeka)
2. Dataran Merdeka (Merdeka Square)
Another must-see attraction if you're in the mood for nostalgia. Like Stadium Merdeka, significant historical events occurred here on 31 August 1957. That day, the British Union Jack was lowered and replaced with our own Jalur Gemilang flag.
Today, the giant flag pole faces a field of well-tended green grass. As you're chilling here, it's easy to imagine what this place must have looked like decades ago, and admire our journey to nationhood.
Address: Jalan Raja, 50050 Kuala Lumpur.
3. Muzium Negara (National Museum)
Fun fact: Muzium Negara was officially opened on 31 August 1963, a momentous date in a historic year. Besides opening its doors to the public on Hari Merdeka, the Muzium Negara launch took place just days before Malaysia was born! On 16 September 1963, Malaya. Sarawak, Sabah, and Singapore came together to form Malaysia.
The museum features four galleries — including Malaysia's journey from achieving independence to the modern country that we know and love today. For a glimpse of the Merdeka era, check out rare artifacts such as:
the first Dewan Rakyat mace that was used in 1957
the Merdeka edition of an old newspaper called Akhbar Malaya
Hari Merdeka postcards from 1957 and 1958
Address: Muzium Negara, Jalan Damansara, 50566 Kuala Lumpur.
Contact: +603-2267 1111, pr.mn@jmm.gov.my
4. National Monument (Tugu Negara)
Built in 1966, this 15.5-metre tall monument depicts seven heroic soldiers with one of them carrying the Malaysian Jalur Gemilang Flag.
This bronze sculpture pays tribute to the heroic soldiers who sacrificed their lives in our battle for freedom against Japanese occupation during World War II, and the Malayan Emergency between 1948 and 1960.
Today, it stands tall and proud near the lush Lake Gardens park, at the heart of Kuala Lumpur. Here's another fun fact: Each year, the Yang Di-Pertuan Agong, the Prime Minister, as well as police and military leaders would visit Tugu Negara. During these occasions, our leaders usually place garlands at the feet of the sculpture — honouring Malaysia's fallen heroes who helped ensure the independence of our nation.
Address: Jalan Tugu, Off Jalan Parlimen, 50480 Kuala Lumpur
Contact: +603 9235 4848
Want a glimpse of what it feels like to live as royalty? The Royal Museum will turn your dreams of regal majesty into reality.
Before being converted into a museum in 2013, it was the National Palace for Malaysia's Yang di-Pertuan Agong and the Raja Permaisuri Agong from 1957 until 2011. Come take a journey through the rich history of Malaysia's unique constitutional monarchy — from Hari Merdeka to the modern era.
Majestic highlights here include the Balairong Seri (Throne Room) and National Palace Gallery. The regal Balairong Seri, where previous Agongs took their oaths as national rulers, still reverberates with echoes of noble palace etiquette and traditions.
Equally impressive is the National Palace Gallery, which was once the residence of the Yang di-Pertuan Agong and the Raja Permaisuri Agong. The residence comprises:
an audience hall to receive visiting dignitaries
office room
formal dining room
reading room
royal bedrooms
and even a dental clinic!
Fun fact: The Royal Museum was once the headquarters of the Japanese Imperial Army in World War II. After the end of the war, the British Military Administration used it as a mess hall for their senior officers. In 1950, the then-Sultan of Selangor and the second Yang di-Pertuan Agong converted it into a palace.
Its entry fees are affordable:
RM5 for each Malaysian adult
RM2 for each child between six and 12 years of age
RM3 for a senior citizen or member of the disabled community
RM2 for a student in school uniform
RM3 for a student who is not in school uniforms
Non-Malaysians are also welcome to explore Malaysia's majestic history at RM10 (per adult), and RM5 (for each child aged 5 years and above).
Admission for non-Malaysians is RM10 (adults) and RM5 (children aged 5 years and above).
Address: Jalan Istana, Istana Negara, 50460 Kuala Lumpur
Contact: +603-2272 1896, Department of Museums Malaysia
Best of all, these destinations are just a drive away with TREVO
For more events and places that will lift up your Hari Merdeka and Malaysia Day celebrations, visit the TREVO Adventures section. There's always a rental car near you in key Malaysian destinations, as TREVO is available in the Klang Valley, Langkawi, Penang, Ipoh, Seremban, Nilai, Johor Bahru, and Kota Kinabalu.
So book, drive and discover happening cultural festivals, gorgeous beaches, lush nature sanctuaries, and savoury food havens with TREVO!