210 bookings, 6 cars and more to come!
Meet Panneer, one of our TREVO Superhosts ? We've had the pleasure of having him on our car sharing platform for the past 10 months! Panneer first shared his Alza with us, and soon, he shared 5 more cars as well. As to date, he has shared 2 Honda Citys, 1 Perodua Aruz, 1 Proton Persona, 1 Perodua Axia, and is planning on sharing more cars! ?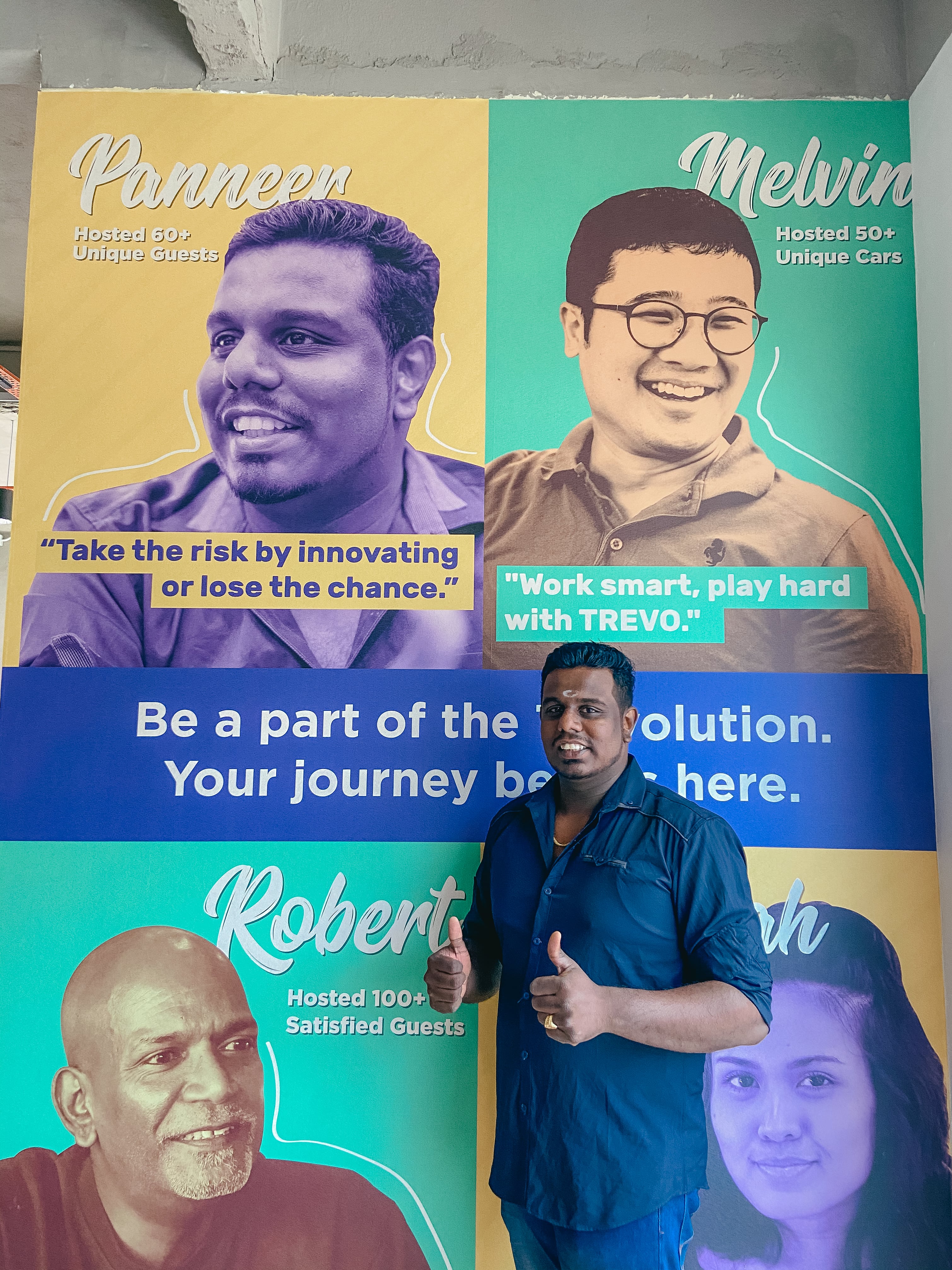 We had the honour of speaking to Panneer about his experience with TREVO and what it is that makes him a Superhost on our platform.
What motivated you to start sharing on TREVO? What made you decide to share more cars after you shared your first car?
TREVO is a new car sharing marketplace which gives people an opportunity to earn extra income. When I learned about this, it motivated me to start sharing more cars on TREVO.
In the beginning, I only shared for a few days. I realised that within 10 days, I was able to earn the amount I needed to pay off my monthly loans. So I figured that if I shared for the remainder 20 days, the money could be extra income, so that's why I decided to share more cars.
Did you have any concerns when you first started as a TREVO Host?
There wasn't much trouble when I first started. The TREVO team was helpful when I first started as a Host. The customer service was very responsive and gave good guidance. Plus, there were very few things that I needed to do. I only shared my car, and everything else was handled by TREVO, from A to Z. From the delivery of the car until the end when my car is returned to me.
How do you share your car differently on TREVO? In other words, with all the good reviews about your cars, what do you do to ensure Guests are happy with your car?
Since TREVO is a new people-to-people car sharing marketplace, I set the prices of my cars to an affordable rate to attract more Guests to book my cars. To manage all the bookings I receive, I have created my own Standard Operating Procedure (SOP) such as making sure all my cars are clean, air pressure of tyres are checked and so on to make sure the Guests have a good experience. Some of the things that I before I handover a car to a Guest are:
Respond to the booking as soon as possible.
Contact the Guest to make delivery arrangements if required.
Make sure the car is sanitised, clean and neat before handing it over.
Fill up the fuel.
Always update Guests in a timely manner.
The pandemic has affected many people financially. Do you think that TREVO has helped alleviate some of that financial burden for you?
Definitely. Like I mentioned, I share 6 cars and within 30 days, I can earn extra income. Plus, car sharing has the added benefit of allowing people to follow SOP in our current situation. When Guests book a car, I sanitise my cars, and people can also easily practice social distancing. Car sharing is really the future.
Would you say that car sharing has changed your life?
Yes, by a lot. With the extra income I earn, I can travel wherever I want. If your car is parked and not in use, I recommend anyone to share their car on TREVO and earn extra income from it.
What advice(s) would you give new Hosts?
First, believe in TREVO. Learn the system and keep updated with the latest news on TREVO. Be responsible and understand the terms and conditions. Ask if you feel doubtful. Finally, and most importantly – put the Guests as your priority. You need to believe that it will work out.
What are you waiting for?