We are so excited to announce that TREVO has arrived in the Pearl of the Orient – the land of delicious dishes, pristine beaches, and historical marvels! We are always looking for ways to make car sharing accessible to everyone, and one of the ways we're doing that is to expand to different states and cities in Malaysia. And now, Penang, we're here! ?
To celebrate this new chapter, we have decided to give you a treat.
We want YOU to experience your FIRST drive with us in Penang at ONLY RM10! From 11 July to 31 August, book ANY car in Penang for trips between 20 July to 31 October for ONLY RM10. Yep, the first day of your booking will ONLY be RM10!
Who can use the promo?
If you've never driven with TREVO before, this is for you ? First-time users get our "JOMTREVO" 50% OFF promo, but not when you're booking a car from Penang! The price of cars in Penang are slashed to RM10 when you book them for your FIRST drive! Don't worry, you can still use your 50% OFF for your next booking.
How it works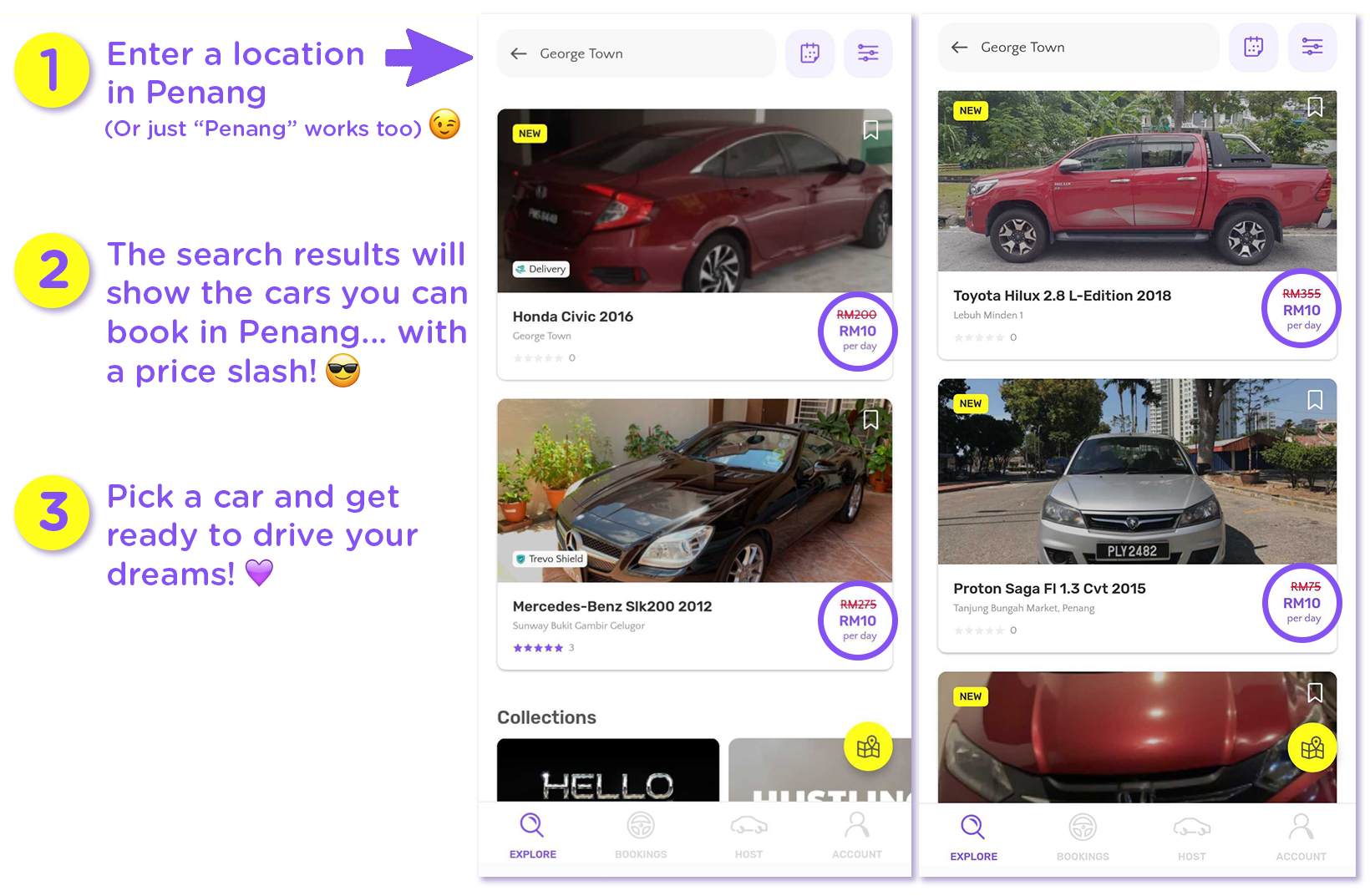 Your eyes are not tricking you. Yes, that Mercedes is priced at RM10 too!
I'm not from Penang. Can I still book these cars?
Yes, you can! If you're planning a trip to Penang soon and you need a vehicle to solve your transportation woes while you're there, you can book a car for RM10. Use our promo to explore Penang and create new memories!
We want everyone to be able to drive their dreams, that's why we're giving you a price you can't get anywhere else. Don't forget to tell your family and friends so they don't miss out on this opportunity too! Don't say bojio ah! ?
Penang, are you ready to drive your dreams? ✨
Terms & Conditions:

*Book from 11 July 2020 to 31 August 2020
*Drive from 20 July 2020 to 31 October 2020
*Promo applicable for cars in Penang only
*For bookings more than 1 day, the promo is applied to 1st day only