We are finally here in the land below the wind ? Sabah is not only home to 5 of Malaysia's highest mountains, but it is also now home to TREVO too!
Of course, being a part of the same home, we want to spoil our car sharing family. You're probably wondering, "Ba betul ka sa perlu bayar RM10 jak kalau mo bawak kereta?" Well, you know what our answer is… Boleh bah kalau kau! ?
From 1 August to 30 September, all first-time TREVO users can book ANY car in Kota Kinabalu for trips between 1 August to 31 October for ONLY RM10. Yep, you read that right. Ba sa tda bergurau!
Who can use the promo?
This is for those who have not made a booking with TREVO yet ? You'll find that the price of all cars in Kota Kinabalu are slashed to RM10! In other exciting news, you will also get to enjoy 50% OFF your next booking too!
How it works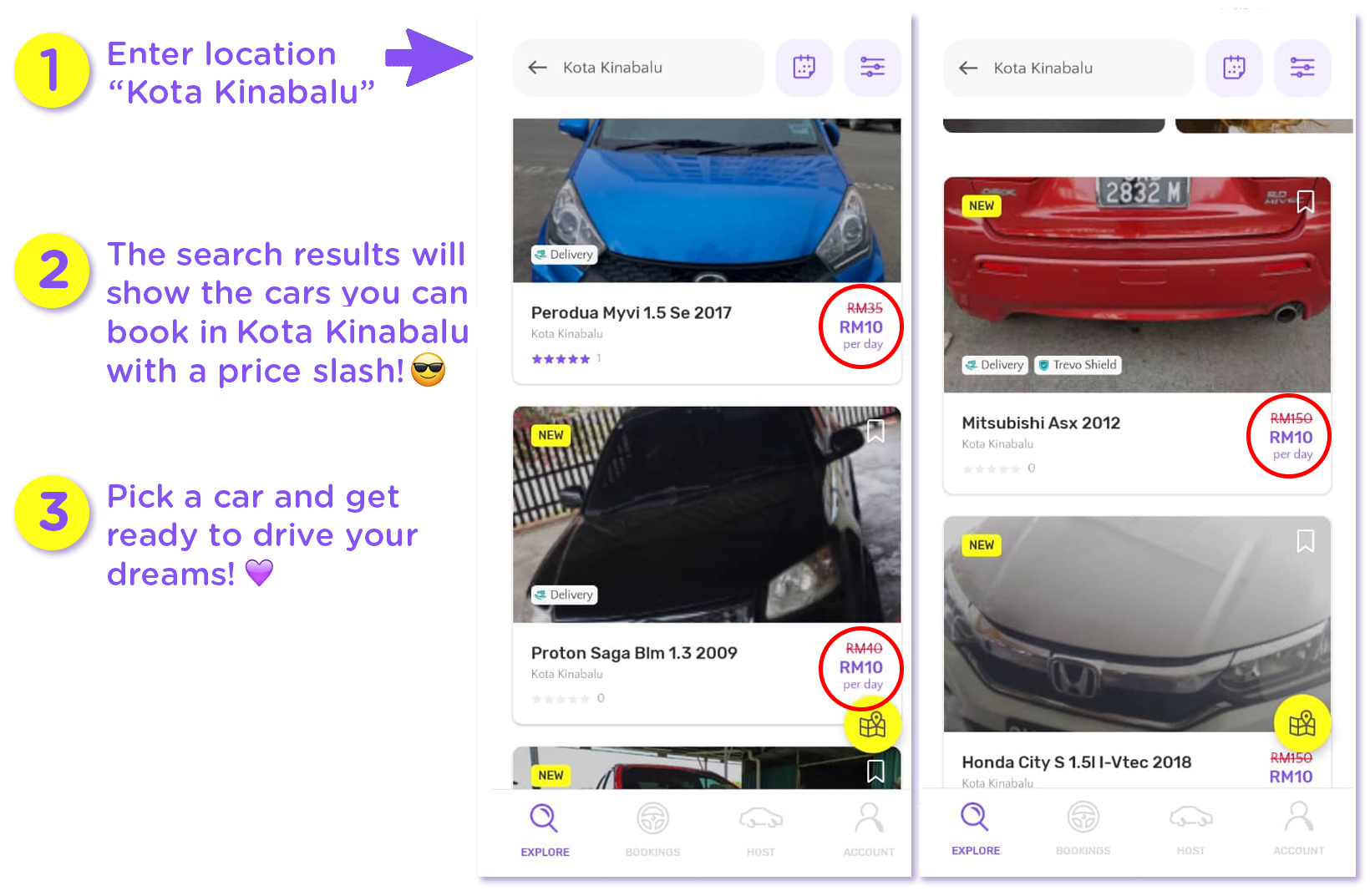 I'm not from Kota Kinabalu. Can I still book these cars?
Boleh bah! As long as you are a first-time TREVO user, you can book a car from Kota Kinabalu for ONLY RM10 within the comfort of your own home. Just make sure that you'll be driving it from Kota Kinabalu to anywhere within Sabah only!
Don't forget to tell your family and friends too, and if they don't believe you, just say "Boleh bah kalau kau!" ?
KK, what are you waiting for? ✨
Terms & Conditions:
*Book from 1 August to 30 September 2020
*Drive from 1 August to 31 October 2020
*Promo applicable for cars in Kota Kinabalu only
*For bookings more than 1 day, the promo is applied to 1st day only