Our Guests and Hosts alike love the convenience of getting their cars delivered and picked up to/from their doorstep. So much so that, over 80% of our bookings require delivery. Naturally, we have 3 ways for the cars to be delivered.
To bring yourself closer to becoming a Superhost, we absolutely encourage our Hosts to self-deliver cars to their Guests.
Now you must be wondering: How much can I earn if I self-deliver my cars? Refer to the table below.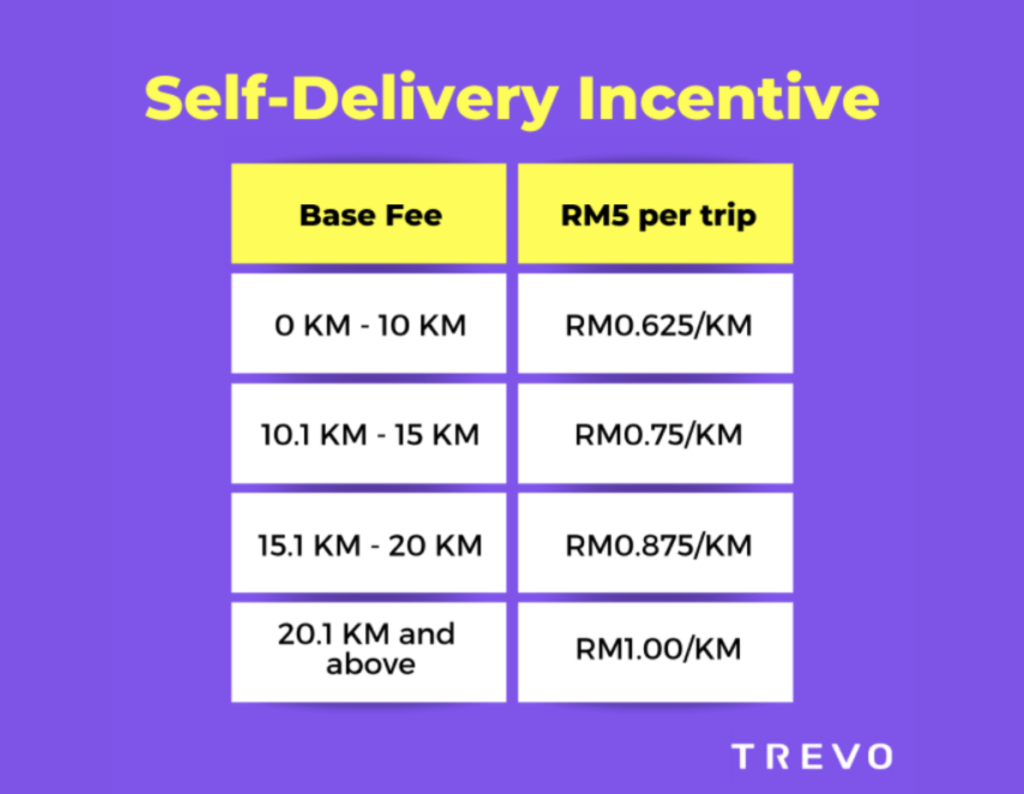 How do I calculate my self-delivery earnings?
Example: 14KM per trip
Base Fee: RM5
Distance traveled: 14KM x RM0.75 = RM10.50
Total: RM15.50*
*Subject to SST
I'm interested to self-deliver! What do I have to do next?
Accept a car booking request.

Fill up a form if you are self-delivering your car (contact us via live chat to get the form link) or;

Fill up the form via the link provided in the SMS we sent you after a booking is accepted.

Our team will verify the details once it's submitted.

Payment will be issued alongside your weekly Host earning payout and you will receive separate payment advice from your booking payout.
What are the benefits of self-delivering your car?
$ Extra income – Get paid when you self-deliver
⚡️ Swift delivery – Reduce delay and waiting time for your Guests
😀 Quality bookings – Increase customer satisfaction
A convenient way to get your car delivered is by opting for our delivery service.
How do I know if my Guest opted and paid for delivery and/or pick up?
Check the booking page for the details.

When a booking with delivery is accepted by the Host, the arrangements will be made automatically.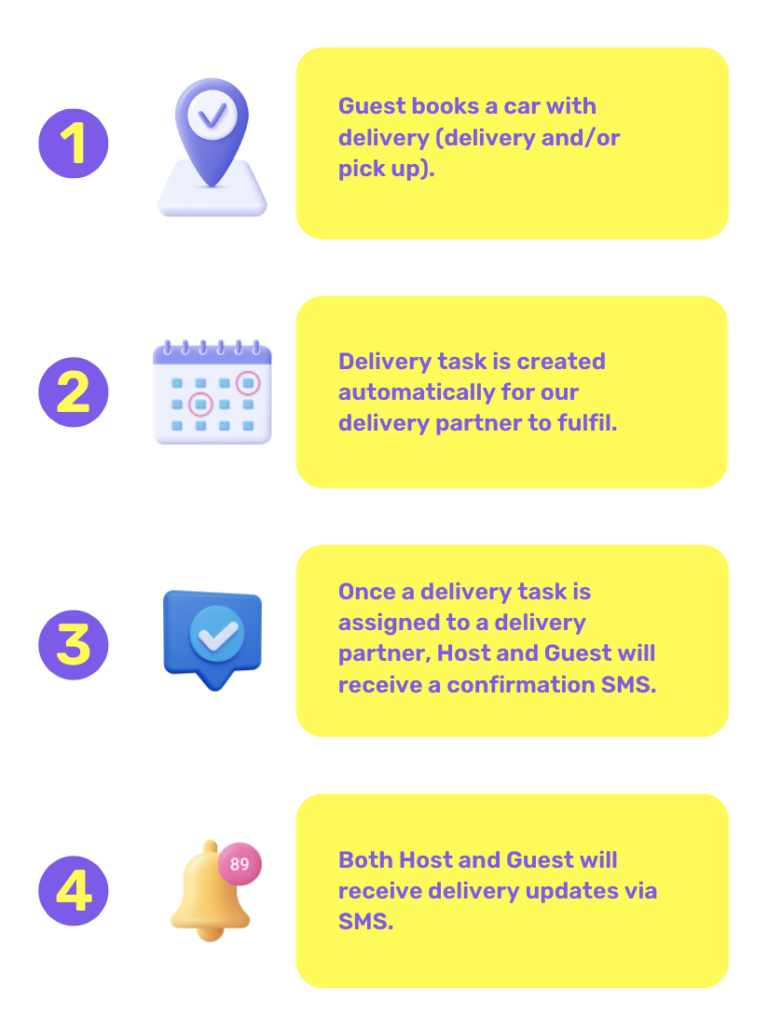 1. What is the delivery operation hours?
8am – 10pm
2. What if the drop-off and pick-up locations are not within the coverage area?
If your drop-off and pick-up location are not within the coverage, please discuss with your Guest on a separate location that is within our coverage area to ensure smooth delivery of the car by our TREVO delivery team.
3. My Guest wants to change their booking details. What should I do?

That's fine! However, please take note that any amendments to the booking details such as drop-off/pick-up location and timing should be made 3 hours before booking time by the Guest.
4. Is there anything else I need to remind my Guest?
Your Guest will need to provide verification, such as their IC, to the Custodian. If someone else is picking up the car on behalf of the Guest, please tell them to provide you with their details so that you can inform TREVO. The Custodian will ask for verification of the individual upon delivering the car to the drop-off location2.
Guests can choose to collect the car directly from the Host. Best if both parties' locations are close to one another or if they need the car urgently.